Blackbrook English Springer Spaniels
PERFECT COMPANION AND HUNTING PARTNER
The English Springer Spaniel is an extremely versatile breed. An endearing family companion, tireless enthusiastic field trial showmen, and a hunting person's best friend. When used for gun hunting the field bred version of a English Springer Spaniel will, almost every time; amaze and out perform any dog you match it with. Springer Spaniels are intelligent, skillful, obedient, energetic, brave, affectionate and fairly good natured, these dogs love people! A well bred field dog will be able to settle down in the home to save energy for work, making them an excellent companion as well as a hunter.
We love our long eared buddies, so we give no limitations over coat variation or confirmation for what makes a great gun dog. Some just take more maintenance than others come hunting season, but with respect to performance; a Springer only has one thing at heart.... please my owner.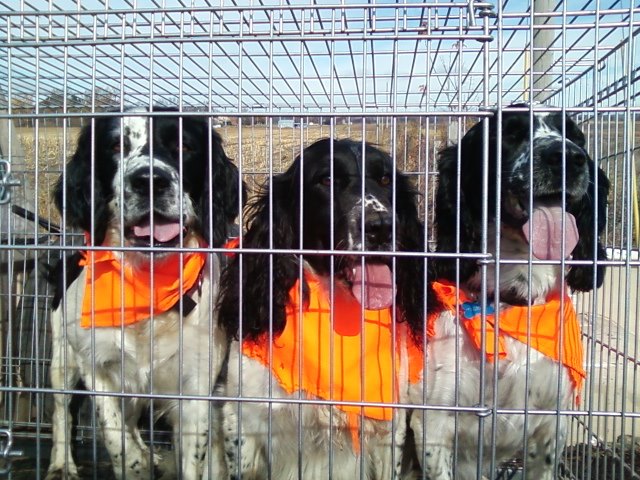 ABOUT US
We have been training and breeding these incredible Spaniels for almost 30 years. Our kennel and breeding program is dedicated to the preservation of the breed, confirmation, disposition and natural instincts of the field bred English Springer Spaniel.
Blackbrook Springer's is a top Wisconsin AKC registered breeder. We breed to have long and short eared, large and small confirmation, and a variety of patterns/colors.
Personally with over 25 years of experience in breeding and hunting, the standards created are the only limits! Own whatever appearance and personality you like in a Springer Spaniel, because the breed will never disappoint.
Please take your time browsing our website, click on pictures to view AKC pedigrees on all our dogs past and present.
For information related to puppies read over our puppy contract, by clicking on the paw print; on the UPCOMING LITTERS tab, The contract will most likely answer most of your questions.
Please feel free to contact us anytime of the day or evening.
And thank you for taking time out of your busy schedule to check out BLACKBROOK SPRINGERS.
~ Wes and Christine Berg


Emily(B/W RETIRED) has whelped over 50 fantastic pups.

Emma's disposition and personality makes her one-of-a-kind, and her confirmation is perfect old school Springer Spaniel. She weighs in at 63lbs and is 23" at the shoulders.
Emily is a beast and still a
tenacious hunter in the field, woods and water.
TRANQUIL

VALLEY
OF BLACKBROOK
Valley(L/W) is full of energy, equally as sweet, and has the disposition of an angel. There's nothing you can't do with her, she is such a versitile dog!
She weighs 50lbs and is 20" at the shoulders.
We are excited to have her in our breeding program. Valley is going to throw gorgeous pups.
LETO'S

ARROW

OF
BLACKBROOK
Arrow(B/W) learns everything extremely quick and is smart as a whip. She also has a perfect field bred little frame that allows her to go non-stop.
This little lady weighs in at 40lbs and is 19" at the shoulders.

Her pedigree stands on its own with 8 Master Hunters, 5 Field Champions, 2 National Field Champions, and 5 Amateur Field Champions!
Blackbrook's Tranquil "Valley" x Blackbrook's No Bull "Dozer" Spring 2023 Litter now open for waiting list until confirmed pregnancy then limited deposits. Click on Puppy contract below for details on deposit and pricing.
This is example text. Please click here to edit the text.
NOW ACCEPTING DEPOSITS AND
PUPPY CONTRACTS.
PLEASE CALL: (715-338-5253) or (715)338-0736 FOR MORE INFORMATION
TESTIMONIALS AND ENDORSEMENTS
"I've owned a few Springers over the years, but my Blackbrook Springer turned out to be the total package. There isn't anything she won't hunt for us! Thank you Wes Berg for all your help picking the right pup, she really fits our family."
"Really had a great experience getting a puppy from the Berg's. They were really accommodating and helpful. I came home with a heck of a lot more than a puppy, I came home with an additional friend. Thank you Wes!"
"My dog hunts fantastic in the field and the water! So proud of what this boy can do. He is smart, obedient, and the biggest Springer I've ever owned. I get compliments on this dog everywhere I go, and I won't get another Springer Spaniel anywhere else."
SPRINGER SPANIEL SOCIAL MEDIA
BRAND SPANKIN' NEW BABY SPRINGER SPANIEL
"Nothing better then puppy grunts and puppy breath! To bad this is not smell-o-vision....lol."
DOGGIES LOVING THEIR WATER
"Swimming our hearts out and cooling off on a hot summer day!"
BLACKBROOKS NO BULL DOZER
DOZER is not available for stud mid-September thru mid-November.
CLOSED FOR HUNTING SEASON!
Stud fee for Dozer is $800 and whelping is guaranteed.
2 or more puppies is considered stud service under that guarantee.